"MADE OF MONEY" BY TOMMY B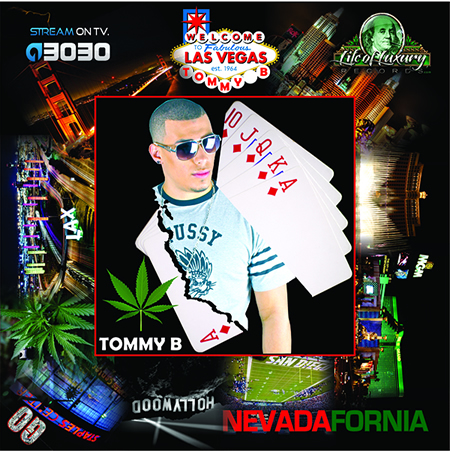 Life Of Luxury Records www.lifeofluxuryrecords.com has released the first official video named "GP" from the upcoming Tommy B mix tape NevadaFornia. The mixtape will be released on Oct. 4th, and will be available on www.datpiff.com and www.livemixtapes.com for FREE DOWNLOADS. Oh and by the way, it streams live on digital TV through Q3030 network on Roku.

Also look out for the next project Coming Soon from Diamond Cartel Muzik Mafia Entertainment of Life Of Luxury Records. New Club Banger called Life Like This by Tommy B ft. Kuban & Luck. Life Of Luxury Records & Diamond Cartel Muzik Mafia Entertainment.
DJ Record Pool Service
WHAT IS "THE ILL NETWORK" ?
Impact Record Pool offers a WEEKLY DGITAL MP3 DELIVERY service called "THE ILL NETWORK".
Simply, you will receive 80-100 songs in MP3 CD EVERY WEEK. It's the digital DJ and music professionals answer to the search for new music! Thru the ILL Network's Weekly MP3 disc, digital DJs and music pro's can view and play music with a simple point and click (fast and easy). Endless hours of searching and downloading are a thing of the past!!
THE DIFFERENCE IS...?
"NO DOWNLOADS!" Impact Record Pool delivers music, NOT "links" to music. Why download one song at a time when you can receive on average 80-100 tracks in MP3 CD format weekly via U.S. mail or Zip file format. Simply load the disc then click which track to play. It's as simple as that! Remember, we are not online digital record pools who just provide download links.
ORGANIZED PLAYLIST
Each track is numbered and noted with artist, title & label information. Clean, dirty, instrumental & acappella versions are noted as well. If you've long been in search of "classic" old-school R&B and hip-hop, git with us! We've got it!!
WHO'S A MEMBER?
Most members are DJ's, along with remixers, producers and A&R rep's close behind. The ILL Network weekly service helps you "STAY ON TOP OF THE NEW MUSIC GAME!"
cali swag district at impact record pool music conference
YG at Impact record pool music conference
Black Diamonds at Impact record pool music conference
Check out these showcase artist "video&Song" BELOW!
Ill Camille "All I Know f/ Brevi" Produced by Battlecat
ILL CAMILLE - "The New Nostalgia" Wordsmith, a term thrown around loosely these days but seldom associated with a female MC. With the odds stacked against her, and the consistent jargon of the music business being a male dominate industry, the self proclaimed "Jane-of-all-trades" ILL CAMILLE is focused and determined to make her mark amongst the who's who of the music scene, male and female alike. Born in Compton, California but raised in both Los Angeles and Inland Empire, this emcee takes pride in her multi-city upbringing. With a deep rooted family background of music, and a natural knack for competition, Camille is prepared to combine all the elements of her experience to provide listeners with a Read More


Chaz Shepherd "Get You Girl"
Born and raised only a brisk walk from legendary "Philadelphia International Records," where the classic "Philly Soul" sound was conceived in its full glory, Chaz Records' recording artist Chaz Shepherd is at the forefront of the renaissance movement he endearingly refers to as "Young Soul".  The burgeoning revival of a genre once forgotten is now captivating audiences throughout the country and around the world.  Chaz is intent on making a significant contribution to once again make soul music the popular choice. As stated in its opening lines, Chaz' debut album, "Love &...Read More